Background
Regulated firms are likely to pay three different types of fee to the FCA. The first is the fee firms will pay to apply for authorisation. If, once authorised, they wish to apply to conduct additional permitted activities, say credit broking, then an application fee is due then, as well as for other ad-hoc applications such as a Variation of Permission (VoP). The same applies if firms need to add new Senior Manager functions. Finally, once authorised, firms pay an annual fee to the FCA (referred to as the periodic fees) that covers, amongst other things, the funding of the FCA, the Financial Ombudsman Service (FOS) and the Financial Services Compensation Scheme (FSCS).
In this Bulletin, following on from Bulletins 338 and 339, we will look at the new structure for authorisation and application fees.
Most application fees have not changed since the Financial Services Authority (FSA) introduced them some 20 years ago. When reviewed in 2020 there were more than 80 separate charges for FCA applications identified. Inflation had subsequently eroded their value, leaving authorised firms paying an increasing proportion of FCA processing costs for applications for authorisation through their periodic fees. That being the case the FCA published a Consultation Paper, CP 20/22, in November 2020 outlining proposed policy changes to the way the FCA will apply fees from 2021/22. This was followed by a further Consultation Paper in April 2021 which included feedback on the proposals outlined in the November 2020 consultation.
The FCA has subsequently published its Policy Statement, PS22/1 on 10th January 2022, which set out the new structure for authorisation application fees and the changes to the authorisation and application fees financial services firms pay.
The new fees, charges and structures came into force on 24th January 2022, with the exception of a new £250 charge for standalone Long Form A applications (new Senior Manager functions and new Approved Persons controlled functions – for Approved Persons at Appointed Representatives) which came into force on 27th May 2022. The FCA's Pricing categories for application fees website page summarises where different types of applications fall into the new structure.
What has changed?
The FCA has condensed all authorisation and application fees into ten pricing categories as listed in the Table 2.1. VoPs (for Permissions within the same fee bock), for example, will fall into Category 2 – £500, while Authorisation fees fall within Categories 4 – 8, with one exception (Limited Permission consumer credit). The applicable category and fee payable will be dependent upon which fee block a firm falls into.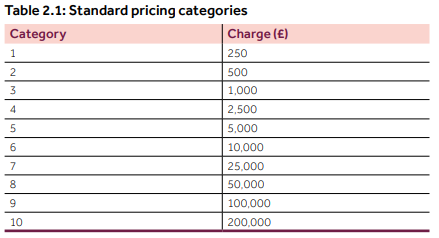 Consumer credit application fees are split out as in the table 2.2*.

Details of which consumer credit-related regulated activities fall into each of these categories can be found in the FCA Handbook at FEES 3 Annex 1, in the sections that cover fee categories 2, 3, 5 and 6.  A summary Details of what is included within Limited Permission and Full Permission can be found on the FCA website.  For details of what the FCA sees as Straightforward, Moderately Complex and Complex consumer credit activities within Full Permission, see Fees 3 Annex 1 and the FCA's Pricing categories for application fees website page.
Summary of key changes
Application /Activity
Previous Cost
New Cost
Authorisation – Insurance Distribution (Category 4)
£1500
£2500
VoP – same permission category / fee block (Category 2)
£250
£500
Variation – new fee block
Unchanged – 50% of relevant fee block / Category charge
Senior Managers /Approved Persons (Long Form A)
Nil
£250
Add or remove permission to hold client money
£250 / £0
£2500***
New Annual Fees
Previous Cost
New Cost
Appointed Representatives *
£250
£266**
Introducer Appointed Representatives*
£75
£80**
* Number of ARs included in the Financial Services Register on the first day of a fee year (so 1st April annually)
** The FCA has created a new 'fee block' for Principal firms (fee block A.22) for the purposes of regular (or 'periodic') FCA fees. The FCA originally proposed an annual fee, payable by Principal Firms, of £250 for each AR or IAR that was on the Financial Services Register as indicated above. The annual fee for IARs was subsequently reduced to £75. In its recent Fees & Levies Policy Statement the FCA has confirmed that the annual fees have increased to £266 per AR and £80 per IAR.
*** See below
Long Forms A
As indicated above the FCA introduced on 27th May 2022 a new £250 charge for standalone Long Form A applications (new Senior Manager functions and new Approved Persons controlled functions – for Approved Persons at Appointed Representatives). This charge will be triggered by the submission of the Long Form A and will be payable per form, regardless of the number of entities covered by the application. The fee will be paid online in Connect, when the Long Form A is submitted. To avoid unnecessary payments firms should take care not to make applications on the Long Form when they can use the Short Form.
Any draft Long Form A applications that are still in Connect awaiting submission will incur the new £250 fee when submitted. The FCA provided no warning about this to firms with draft applications. If an application was part-complete, and in draft, and could not be completed because of an FCA system error, the FCA has confirmed that under normal circumstances the new fee will still apply. However, the FCA can consider this on a case-by-case basis. Contact the Supervision Hub if you need to discuss this further.
Adding or removing permission to hold client money
Removing permission to hold client money has traditionally not carried any charge as it was deemed to be a reduction in a firm's 'requirements'. Making a request to be granted permission to hold client money was treated, from a cost perspective, in the same way as a VoP, so charged at £250. It would be reasonable to expect, if such requests have always been treated in the same way as a VoP, that the charge would now be £500.
However, it is important to note that permission to hold and/or control client money is not a formal Part IV A Permission. As such, asking the FCA for permission to hold client money is not, strictly, a VoP. In what appears to have been an unintended consequence of the application fee restructure, the FCA's Connect system seems to be viewing requests to add permission to hold client money as a separate request for a Permission and is indicating that the charge is significantly higher than £500. This issue is currently the subject of debate between UKGI Group Consultancies and the FCA. If you need to add the requirement to hold client money, please contact us for advice and guidance.
Change in Control (CiC) notifications
In the FCA's initial fee restructure Consultation Paper, CP 20/22, the FCA proposed introducing new charges for notifications of changes in control (CiCs). In the second Consultation in April 2021, and in the Policy Statement published in January 2022, the FCA confirmed that it would defer its proposals on CiCs, and no further commentary has been made in this regard by the FCA as at the time of publishing this Bulletin.
Insurance brokers using consumer credit-related Permissions
Many insurance brokers have a credit broking Permission, along with some or all of the associated 'debt' Permissions (debt adjusting, debt administration, debt counselling and debt collecting). Brokers approaching the FCA for such Permissions need to be aware that applications for these Permissions are ordinarily viewed by the FCA as 'moderately complex' or 'complex', putting them in the Category 5 and 6 fee bands. The costs payable would depend on whether such an application can be made as a VoP within the same 'fee block' (for a broker that already has, for example, credit broking permission), whether the application is a VoP for Permissions in a new fee block, or whether the application is for debt adjusting or debt counselling, where those Permissions are limited by one or more of three specific limitations. Any brokers wishing to add consumer credit Permissions should contact us for guidance.